My new Finnish passport arrived yesterday. I have one regret, which is that I didn't really appreciate how much better it is to have your picture taken by a photographer using flattering lighting. On the other hand if I become an offender the police won't have to re-take my photo for the prison records. It can also be used by scientists to study the effects of gravity.
When I was at the embassy submitting my application, the official scanned my photo into the system which informed us that it's a 90% match as compared to the old photo from five years ago. This seemed both reassuring and tragic. If my face keeps changing at the same rate, in 45 years I will be 100% different-looking. You could put 31-year-old Meri next to 76-year-old Meri and see zero resemblance. Maybe that is what happens. 🤔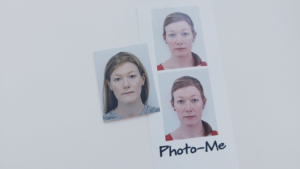 None of my passports have seen really exciting amounts of action, but the one I'm retiring now has been exceptionally desk-based. The only big trip it took me on was New York in 2018. Then there were pandemics and babies, so I think it's only been to nearby Ireland and France, and Finland of course. I'm hoping the new one will have a slightly more interesting life – although it shouldn't get its hopes up in the very near future as it will only be going to Finland again next month.